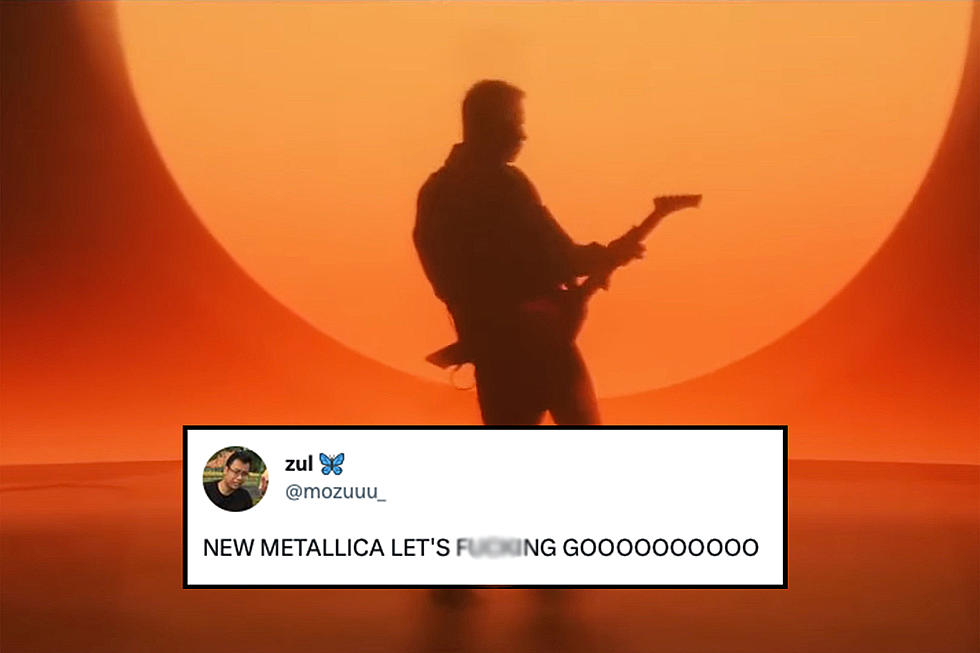 Fans React to Metallica Releasing '72 Seasons' Title Track
YouTube: Metallica / Twitter - @mozuuu_
Metallica are inching closer to releasing the new 72 Seasons album, and today (March 30) we got our first listen to the album's high energy title track. And already the fans have plenty to say about the song, so you can check out the reactions in full below.
The band just released the corresponding video as well that opens on a desolate guitar wasteland before the energy ramps up significantly with the band's tension building guitar and drum work building to peak intensity before going on a galloping good time.
Upon initially announcing the album, frontman James Hetfield commented on the significance of the title. "Is there a special meaning to the title?" the rocker said when the album was first announced. "72 seasons. The first 18 years of our lives that form our true or false selves. The concept that we were told 'who we are' by our parents. A possible pigeonholing around what kind of personality we are."
You can check out the song and video in full below, while the lyrics to the song can be found here.
Metallica, "72 Seasons" Video
Now that you've had your listen. Let's see what people are saying about the new song. And just a reminder that the 72 Seasons album is due April 14. Pre-orders are currently available. Plus, you can catch them on the road in support of the new album. Get your tickets here.
READ MORE: Robert Trujillo Contributes Vocals to a Metallica Recording for First Time on '72 Seasons'
"Best one so far! Still a bit underwhelmed by the drums and riffs, but I mean, this is what they enjoy creating at the moment. Excited to hear the rest of the album. Also that harmony part after the solo was fucking good," someone commented on a Reddit thread about the song.
"Definitely the best of the four songs released. It's a tad on the long side, but it doesn't feel nearly as predictable and repetitive as the others. Good chorus too," another Reddit user added.
Every Metallica Song Ranked
More From 100.3 & 94.7 The Eagle WDHI-FM