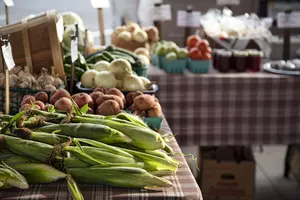 Franklin Farmers Market to Add Umbrella Tables and Seating
YovoPhoto
The Franklin, NY Farmers Market will have a new feature this year.  Seating at umbrella tables!
The market, which is located near Center and Institute Streets, will arrange the tables and seating in accordance with the new guidelines established by the Reopen New York initiative during the COVID-19 pandemic.  The market will feature vendors selling local products including foods, flowers, plants, etc.  Spaces are limited so vendors are encouraged to sign up for a space ASAP.
The market hours are Sunday from 10:00 am to 2:00 pm.  It will run to Columbus Day.
To sign up as a vendor contact market manager Trish Tyrell at 607-287-8853.
More From 100.3 & 94.7 The Eagle WDHI-FM