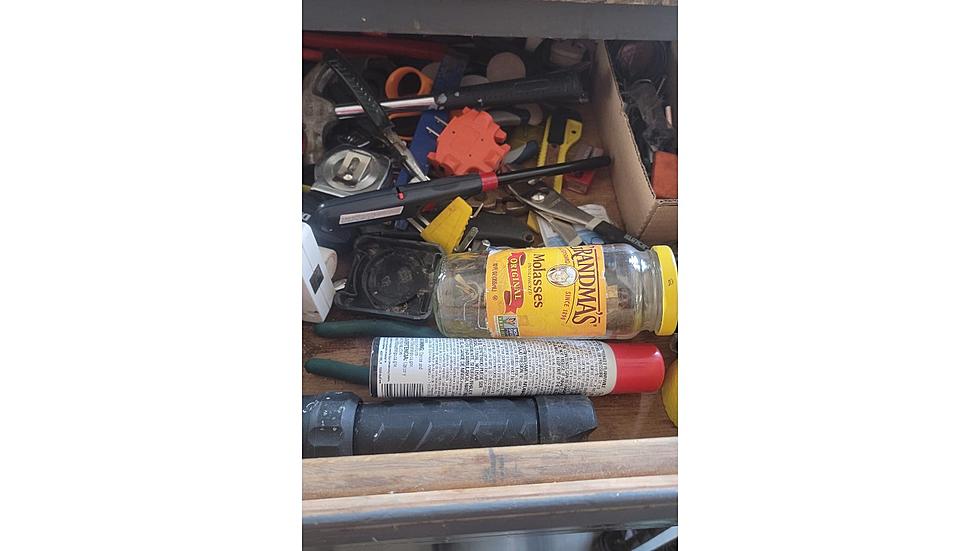 Here's What Makes A 'Junk Drawer' a 'Junk Drawer'
Jodi Scharf-Orton
Last week I asked you the following question. What's something every "junk drawer" must-have in order to be considered a proper "junk drawer"? And your answers didn't disappoint.
Junk drawers, most of us have one. Maybe it's in your kitchen. Or your laundry room. Or your mudroom. It's that drawer with the most random collection of items. Everything from birthday candles and matches, to allen wrenches and a flashlight that needs its batteries replaced.
The collection of random items one finds in a junk drawer that makes it a proper junk drawer was quite extensive. Here's what you told us:
Steve Kenney: Everything that was leftover from putting something together just in case you may need it the next time you put something together.
Dave Pieniaszek: I know if it's a man's junk drawer……A tape measure!
Sherry Jo Painter-Torres: Random nuts, screws, nails from various projects…..a hammer, tape, and mousetrap.

Ken Blowers: Scissors tape string wire duct tape small nails hammer magic marker.
Bobby Ames: Scissors and duct tape. Oh and many screwdrivers. Then super glue to get all over your fingers.
Brandy Carew: Staples, random chargers that probably don't have a home and pennies.
Kathy Friedel: Odd screws and washers that you don't have a clue where they came from.
Debbie Kalthoff: All the allen wrenches from furniture that had to be put together.
Teri Goff Mitchell: Odd stuff that you may need but. Never find it when you do.
Also making the list: keys to who knows what, batteries, bread ties in every color, tape in every color, Taco Bell sauce packets, rubber bands, string, can opener, and more. You can check out what everyone said in the Facebook post below.
Our Visit to Lolly's Candy Store in Sedalia
What to do on a sleepy Monday afternoon when you don't want to work? Check out the vintage candy store and satisfy that sweet tooth. Lolly's Candy Store is located at 702 S. Ohio, in Sedalia. Their Facebook page says they're open 10:00 AM - 6:00 PM CST Monday - Saturday and 10:00 AM - 2:00 PM CST Sunday.
Your Thoughts On the Royals Building a New Ballpark
Our question of the day recently asked what you thought about the Royals building a new stadium in downtown Kansas City. Here are some of the responses you posted on Facebook in response to that question.
More From 100.3 & 94.7 The Eagle WDHI-FM