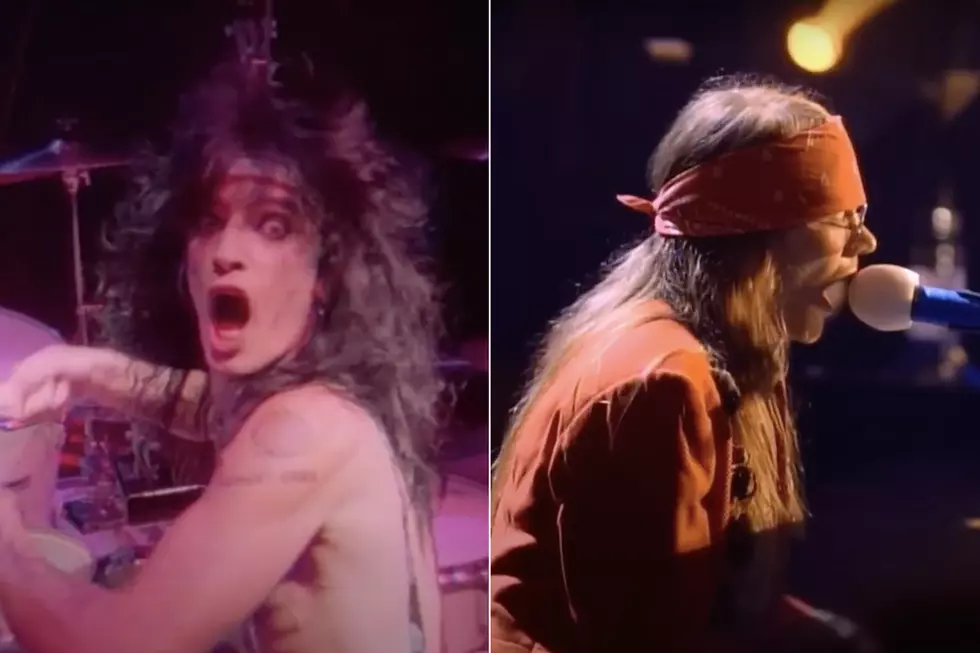 How Tommy Lee Inspired Axl Rose to Write 'November Rain'
YouTube - Motley Crue / YouTube - Guns N' Roses
Though "November Rain" was included on Guns N' Roses' 1991 album Use Your Illusion I, the track was actually written years before Appetite for Destruction even came out. According to Axl Rose, a fellow rocker actually inspired him to write it — Motley Crue drummer Tommy Lee.
When Crue released "Home Sweet Home" in 1985, it really opened the door for a lot of other hard rock bands to release their own power ballads. While the majority of Motley Crue's songs were written primarily by Nikki Sixx, it was Lee who came up with the piano melody that can be heard throughout the track. And Rose took note of it, as he'd been trained in classical piano as a child.
"Tommy Lee was major influence on the song. It was the first time I saw 'Home Sweet Home,' and watching the part of doing the piano, it made me realize that I could take what I did know about piano and focus it into something simple, but very serious," Rose recalled during November Rain: Makin' F@*!ing Videos [via Appetite for Discussion], which was released on VHS in 1993.
"Because I think the part that he does on 'Home Sweet Home' is beautiful — it's very simple, but it's the right part. That's the approach I took to 'November Rain.' That's what got me started. I saw that video, then shut off the TV and started on 'November Rain,'" he continued.
"What was really wild about it was being just overwhelmed by the sounds and working with all these new sounds. I mean, I'm in a rock band where you just work with — most of the time Guns N' Roses just works with guitars, drums, vocals, bass. But working with the strings, and flugelhorns, and certain bells — and, 'Is it the right bell?' It was almost like it was magical."
Elton John was another rocker who influenced the sound of "November Rain." Matt Sorum has stated in various interviews that Rose asked him to base the drums in the song on John's "Don't Let the Sun Go Down on Me," which is why he repeated the same fill 23 times during the recording process.
GN'R released two 1986 demo versions of "November Rain" as part of the 30th anniversary reissue of Appetite for Destruction, one of which features Rose on the piano, and the other is played on acoustic guitar. Check them out below.
Motley Crue - 'Home Sweet Home'
Guns N' Roses - 'November Rain'
Guns N' Roses - 'November Rain' 1986 Piano Demo
Guns N' Roses - 'November Rain' 1986 Acoustic Demo
Top 90 Hard Rock + Metal Albums of the 1990s
More From 100.3 & 94.7 The Eagle WDHI-FM