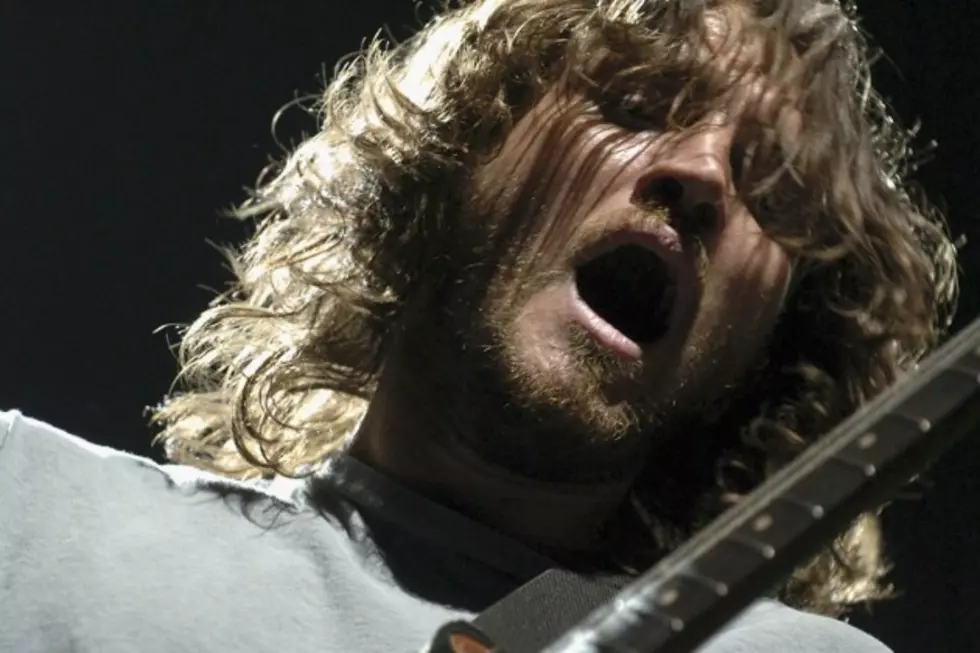 23 Years Ago: John Frusciante Quits the Red Hot Chili Peppers (for the First Time)
Bryan Haraway, Getty Images
The Red Hot Chili Peppers were on the cusp of global domination during the spring of 1992, and that's exactly why guitarist John Frusciante abruptly (but maybe not unexpectedly) quit.
After nearly a decade ascending the Los Angeles club scene with their unclassifiable blend of funk fused with metal and sporadic nudity, the Chili Peppers were in the midst of a massive, multi-year tour in support of their mainstream breakthrough, 1991's Blood Sugar Sex Magik. At the beginning of the run in early 1991, opening acts included up and comers like Nirvana, Pearl Jam and Smashing Pumpkins. Within a year, however, each of those bands shot to stardom on their own as an alternative revolution altered the rock landscape.
While grunge was the predominant form, the Chili Peppers were among the more eclectic acts commandeering MTV and FM airwaves – and while frontman Anthony Kiedis and diminutive bassist Flea were the most recognizable members, it was Frusciante who helped push the band to the next level. The son of a Julliard-trained pianist, Frusciante was a student of the guitar and had become a virtuoso by the time he was a teenager. Growing up in Santa Monica, he became a huge fan of the Chili Peppers – then mostly known only in California – when he was 15. Three years later, after the fatal heroin overdose of original guitarist Hillel Slovak in 1988, Frusiante was asked by Flea (who he had since befriended) to join the band.
Frusciante brought a new and darker dynamic to the band's sound – one that gradually shifted from party-starting funk to more melodic and traditional rock. He first appeared on 1989's Mother's Milk, which achieved far more commercial success than anything the band had done prior. But his dynamic style – one that incorporated more of a metal edge – is most noticeably apparent on Blood Sugar Sex Magik. The album was almost instantly a crossover hit on the strength of singles "Under the Bridge," "Give it Away" and "Breaking the Girl."
Although the success shot the Chili Peppers into the stratosphere, Frusciante said he grew uncomfortable with the unexpected fame. In In Kiedis' memoir, Scar Tissue, he said he remembers having arguments with Frusciante backstage after concerts. "John would say, 'We're too popular. I don't need to be at this level of success. I would just be proud to be playing this music in clubs like you guys were doing two years ago.'" By May 1992, tension within the band had begun to become apparent to even casual observers – perhaps most infamously during the Chili Peppers' appearance on Saturday Night Live during which Frusciante played the wrong notes and sang off-key. Kiedis accused him of intentionally sabotaging the performance.
Within a few weeks, the band found themselves in Japan. Frusciante had mostly disconnected himself from the rest of the Chili Peppers and spent most of his time holed up in his room with his girlfriend. On May 7, before a scheduled show at Tokyo's Club Quattro, he informed the band's manager that he was quitting. While the rest of the band were able to convince him to at least play that night (a show they later referred to as one of their worst ever), Frusciante left the following day. It all happened so fast that Rolling Stone had to digitally remove Frusciante from the cover photo the band had already shot:
With no other options, the band canceled the remaining dates in Japan, then their Australian leg as they frantically searched for a replacement. While the Chili Peppers eventually managed to enlist former Jane's Addiction guitarist Dave Navarro in time for their headlining run on Lollapalooza, Frusciante didn't fare nearly as well. During his tenure with the band, he had fallen into a deep heroin addiction – one that he managed to keep hidden from his bandmates – and, when he returned to L.A., drugs completely consumed him.
He spent three years isolated in his graffiti-covered Hollywood Hills home. The conditions were so deplorable that his friends Johnny Depp and Butthole Surfers frontman Gibby Haynes shot a short documentary called Stuff that showed the squalor Frusciante descended into. The house was eventually destroyed in a fire – which also claimed all of his guitars and several tapes of music he had recorded. Although he released two solo albums between 1994 and 1997, he also later requested both be removed from the market.
In the meantime, the Chili Peppers released 1995's One Hot Minute – their only album with Navarro and a relative disappointment considering the band's previous success. In early 1997, Frusciante entered rehab and managed to emerge clean within a month. The Chili Peppers parted ways with Navarro and Flea asked Frusciante to rejoin the band. By then, he had adopted a healthy, holistic lifestyle and he jumped at the opportunity. With renewed focus and solidarity, the Chili Peppers went onto record 1999's Californication – an album that brought back the band's emphasis on melody and structure while moving towards more spiritual and ethereal aesthetics. It became their most successful record selling more than 15 million copies, peaking at No. 3 on the Billboard 200 and producing the Grammy-winning single, "Scar Tissue."
Frusciante recorded two more albums with the band – 2002's By the Way and 2006's Stadium Arcadium – before amicably going on his own again in July 2009. This time, however, he did it in a much lower key style and the band didn't publicly announce his departure until that December, when they began work on 2011's I'm With You with new guitarist Josh Klinghoffer.
All told, Frusciante now has 12 solo albums to his name (he also spent many years collaborating with the Mars Volta) and he's since shifted to electronic music; he released his debut full-length of acid house music under the name Trickfinger last month. But his time with the Red Hot Chili Peppers – both of them – will always remain not only the centerpiece of his career, but essential to the legacy of the Chili Peppers.
You Think You Know Red Hot Chili Peppers?
More From 100.3 & 94.7 The Eagle WDHI-FM