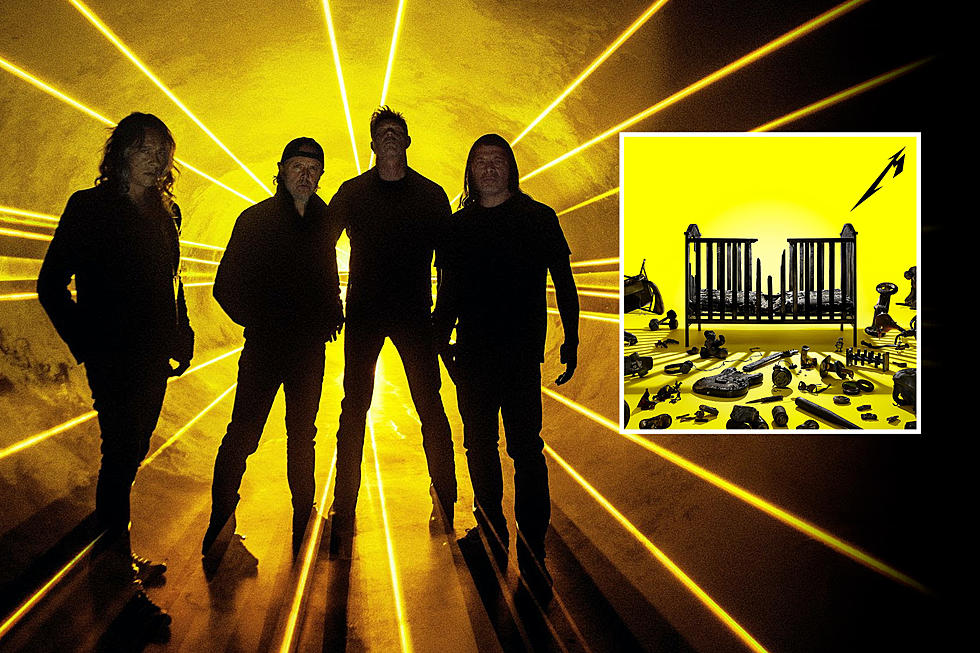 '72 Seasons' Is First Metallica Studio Album to Not Hit No. 1 on Billboard 200 Since 1988
Tim Saccenti / Blackened Recordings
Metallica's new album, 72 Seasons, hasn't debuted at No. 1 on the Billboard 200 chart, marking the first time since the release of ...And Justice For All in 1988 that the band has failed to lay claim to the top spot on the hallowed chart.
On the flip side, the record debuted at No. 1 in the U.K., a feat that had not been achieved since the release of Death Magnetic in 2008.
Stateside, the 12-track album which was led by four tracks — "Lux Aeterna," "Screaming Suicide," "If Darkness Had a Son" and "72 Seasons" — reached No. 2, falling behind controversial country star Morgan Wallen (who was caught on video in 2021 using a racist slur), whose One Thing at a Time record has reigned at No. 1 for the seventh consecutive week.
Unlike Metallica, Morgan's chart position is mostly bolstered by streaming figures, which are tabulated into Billboard's weekly totals.
The metal legends moved a total of 146,000 album units, 134,000 of those stemming from physical sales while just 12,000 of Wallen's 166,000 album units tallied this week are from physical sales. Those 146,000 album units moved in the first week also represents the biggest week for any rock/hard rock album since Tool's 2019 album Fear Inoculum recorded a total of 270,000 album units the first week after its release.
The 72 Seasons album also enjoyed massive successes in other areas — it reached No. 1 on Billboard's Top Album Sales, Top Rock Albums and Top Hard Rock Albums charts as well.
READ MORE: What James Hetfield Really Wanted Metallica's New Album to Be Named But Was Outvoted
Further below, you can view the peak chart positions of all of Metallica's 11 studio albums.
Now that 72 Seasons is out, Metallica will shift their focus to promoting the record on a 2023 and 2024 world tour, with two-night performances in each location and with differing sets of special guest openers. See all the upcoming dates here and get your tickets at this location.
All Metallica Studio Album Billboard 200 Chart Peaks
Kill 'Em All (1983) — No. 66
Ride the Lightning (1984) — No. 48
Master of Puppets (1986) — No. 29
...And Justice For All (1988) — No. 6
Metallica aka 'The Black Album' (1991) — No. 1
Load (1996) — No. 1
Reload (1997) — No. 1
St. Anger (2003) — No. 1
Death Magnetic (2008) — No. 1
Hardwired... To Self-Destruct (2016) — No. 1
72 Seasons (2023) — No. 2
Metallica: A Photo Timeline of Their Remarkable Career
A photo timeline of Metallica's career.
More From 100.3 & 94.7 The Eagle WDHI-FM