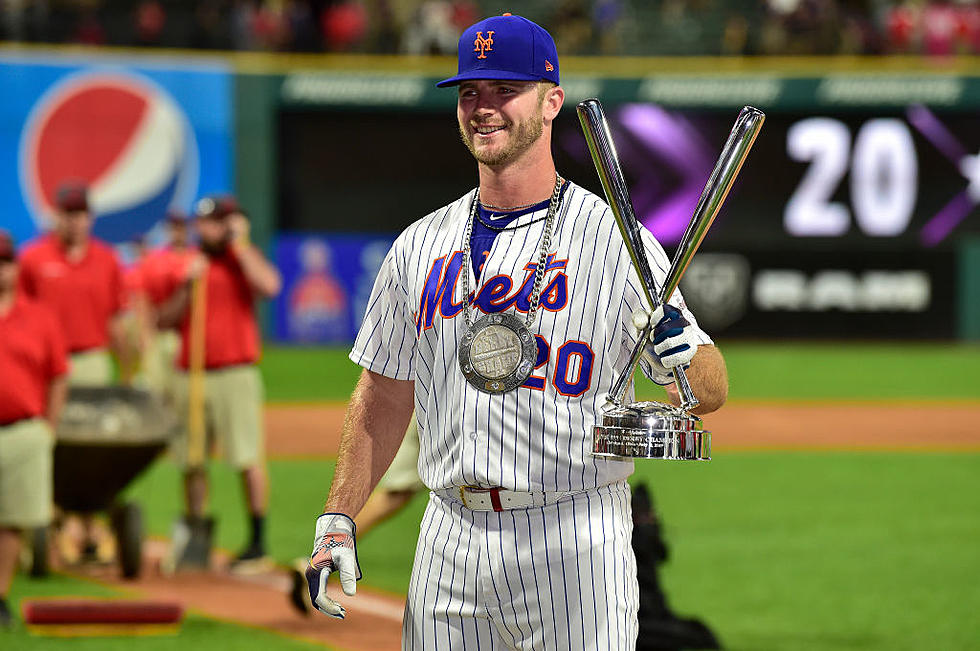 Mets' Alonso Has Daunting Road to Home Run Derby Repeat
Getty Images
The Polar Bear is taking yet another plunge into the MLB Home Run Derby, but it won't be easy.
Major League Baseball released their bracket for the upcoming derby, a bracket that features Alonso as the No. 5 seed out of eight players. Alonso joins a group of Shohei Ohtani, Juan Soto, Salvador Perez, Joey Gallo, Trevor Story, Matt Olson and Trey Mancini as the eight that will compete for the title. With the thin air and high altitude of Coors Field in Colorado serving as the venue, the balls are going to fly all night long.
Here's how the MLB stacked the competition, and whether Alonso has a real chance to repeat as champion.
Alonso is matched up on the left side of the bracket with Salvador Perez, catcher for the Kansas City Royals. Perez has 20 home runs this season, which is ALREADY his 5th highest mark in his career. The Polar Bear, meanwhile, has 15 home runs this season, and missed a portion of the year with an injury. He set a very high standard for himself as a rookie, smashing 53 bombs in 2019.
The winner of that match-up will face the winner of Seeds One vs. Eight. Fellow National League East phenom Juan Soto joins the group as the No. 8 seed, while two-way superstar Shohei Ohtani claims the No. 1 spot. Ohtani has already eclipsed the 30 home run mark this year, and has set the record for home runs in a season by a Japanese player...already.
My dark horse from the other side of the bracket is Texas Rangers' outfielder Joey Gallo. He's made a career (so far) out of hitting almost nothing but home runs, and hitting them a mile when he does. Gallo will surely take advantage of the high altitude, and will be a force in the Derby.
That being said, Alonso's biggest test will likely be Ohtani, and if he can get past him, the Polar Bear will have a very good chance at repeating as champion.
CHECK IT OUT: 100 sports records and the stories behind them
More From 100.3 & 94.7 The Eagle WDHI-FM