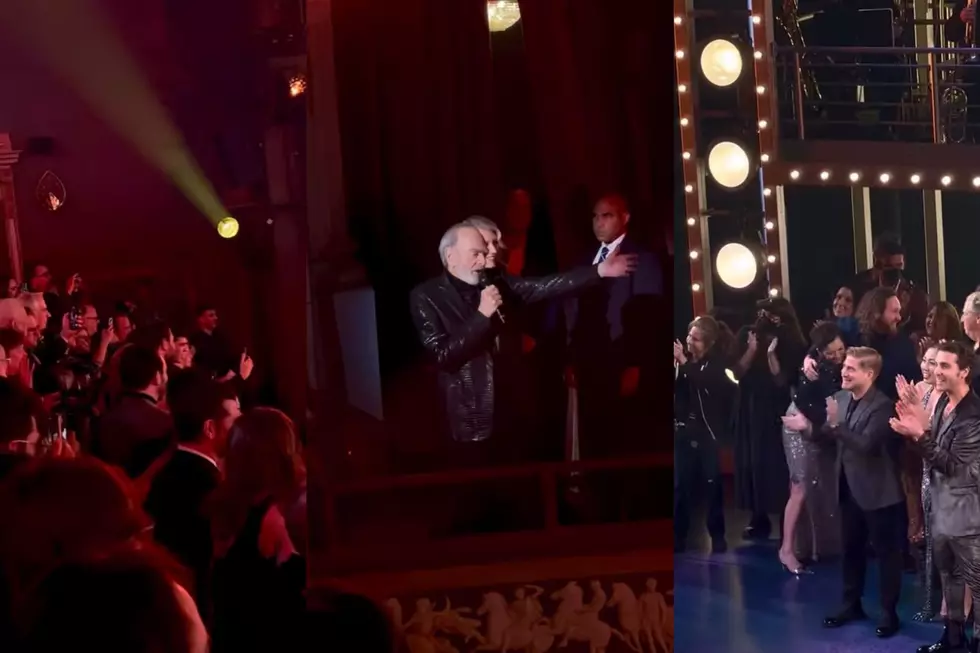 Music Legend Shocks New York Crowd With Impromptu Performance
bwaySHO on YouTube
It's one of the most recognizable songs in the world. Whether you're at karaoke, a ball game, a bar, or really anywhere in public, you'd be hard pressed to find someone who didn't know "Sweet Caroline." (Bum bum bummmmmm!)
All countries and all ages know the classic tune, but one audience in New York got a massive surprise treat over the weekend with a rare performance from the iconic Neil Diamond, himself.
The 81-year-old singer retired from performing in the middle of his 50th anniversary tour in 2018 after a Parkinson's Disease diagnosis. Audiences expected all the hits for the opening night of "A Beautiful Noise: The Neil Diamond Musical" on Broadway, but during the encore the audience and cast were stunned when Neil appeared in a balcony with his wife to lead everyone in the building in his most famous song.
Diamond still sounds amazing, even after a half-decade of no singing. Clearly everyone is thrilled with the appearance, paying tribute to the man whose life story they just watched.
The story of the legendary Neil Diamond comes to life on stage in an uplifting new musical featuring all his hit songs including "Sweet Caroline," "America," and "Cracklin' Rosie." This is the story of that Brooklyn kid who made it big and took us all along for the ride.

From those exhilarating early days in New York to the sold-out spectacles that defined his career, A Beautiful Noise explores the life of a rock icon through the music that made him "a national treasure" (Los Angeles Times).
David Letterman's Most Memorable Late-Night Moments
A roundup of David Letterman's most memorable late-night moments.
34 Rock Stars Who Haven't Released an Album in Over Five Years
For many classic rockers, touring is more enjoyable — and profitable — than making records.
More From 100.3 & 94.7 The Eagle WDHI-FM