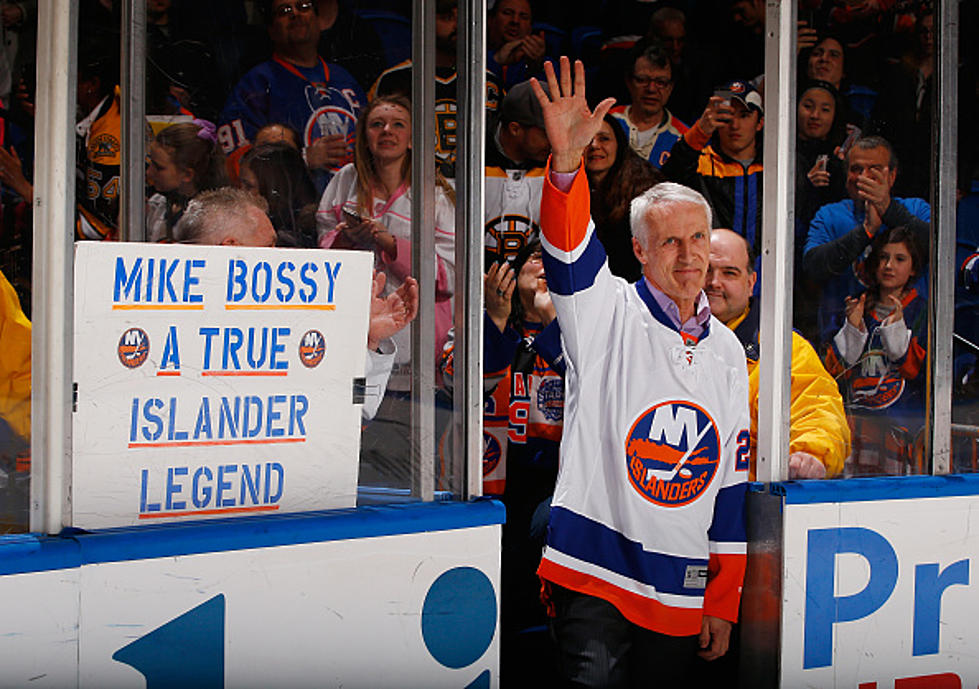 New York Islanders Greatest Ever Loses Battle
Getty Images
He changed a franchise. He changed a community. The New York Islanders were building a great franchise but when Mike Bossy came along, something clicked. The Islanders had a goal scoring machine. Two years later, #22 was hoisting the Stanley Cup, the first of four straight for the Long Island NHL franchise.
Mike Bossy was the most prolific goal scorer that I have ever seen and his numbers back that up. On Friday morning, the New York Islanders announced that Bossy had passed away at the age of 65. The NHL legend had been battling lung cancer. According to Neil Best of newsday.com, Mike Bossy's 0.762 goals per game rank first in NHL history. Just to give you a reference, Wayne Gretzky scored at a 0.601 goals per game average. Bossy's career was cut short because of chronic back issues. Islander fans referred to him as the "Sandy Kofax of the NHL" having played 10 incredible seasons for the franchise that called the Nassau Coliseum home.
Right-winger Mike Bossy and defenseman Dennis Potvin are considered the two-greatest Islanders that ever put on the uniform. Together they brought home 4 Stanley Cups from 1980-1983. Had Bossy's back held up, who knows how many more parades would have been held on Long Island. Mike Bossy retired averaging 57.3 goals and 112.6 points per season.
According to newsday.com, on Jan. 24, 1981 Bossy joined Maurice Richard as only the second player to score 50 goals in 50 games needing two in the last five minutes against the Quebec Nordiques to reach the milestone. Bryan Trottier assisted on No. 50, which came with 1:29 remaining. Best put it nicely as it "was fitting, given the long first-line partnership between Bossy and Trottier, often with Clark Gillies as their left wing." Gillies passed away on January 21st of this year. According to Best, he was the first of the Islanders' 17 four-time Cup-winning players to pass away.
In a 2017 essay in The Players' Tribune — written as a letter to his 14-year-old self — Bossy closed with this: "Thank God I was an Islander, and I love you, Bryan Trottier." Thank you Mike Bossy for the amazing memories that you provided for a Long Island kid in the upper deck and the rest of the Islanders fans.
New York Colleges That Made The Top 50 Most Expensive In America
CBSNEWS.com did a Top 50 Most Expensive Colleges and Universities in America. Let's see which New York colleges made the list.
10 Capital Region Golf Courses You Can Play For Under $40
Taking a look around the Capital Region at some of New York's finest public golf courses, I was able to find more than a few that won't break the bank. Check out these affordable options, so you can save and play the links more often!
See Bob Weir At New York's Radio City Music Hall For His "Ace" Album 50-Year Celebration
Bob Weir & The Wolf Brothers came to New York's Radio City Music Hall to celebrate 50 years since the release of his solo "Ace" album, which included such Grateful Dead staples as Playin' In The Band, Looks Like Rain and Mexicali Blues. The two night run April 2nd and 3rd featured special guests and sold out performances.
More From 100.3 & 94.7 The Eagle WDHI-FM