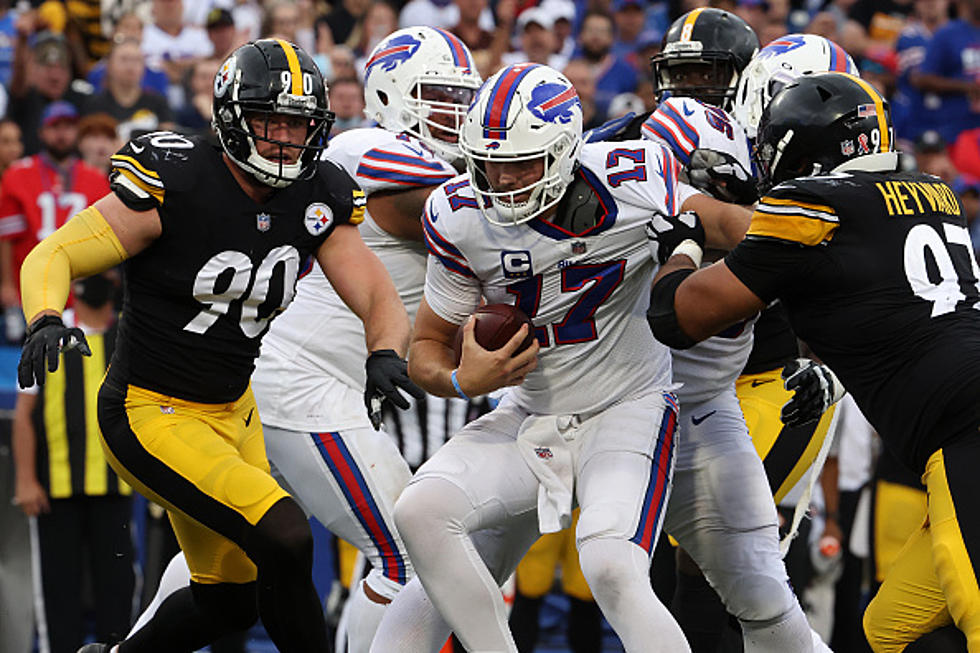 New York NFL Teams Stumble into 2021 Season
Getty Images
If you are a Buffalo Bills fan, you went into yesterday afternoon's game prepping yourself for Game 1 of your Super Bowl bound season. If you are a New York Giants fan, you started the day salivating at the prospect of young Daniel Jones taking that next step in his progression as your franchise quarterback, surrounded by his newest offensive acquisitions. And, if you happen to be one of those downtrodden Jets fans, you just didn't want your team to suck like it has for the past two years (it actually felt like twenty) under the disastrous spell of Adam Gase.
Well, all 3 New York teams let their fans down on Sunday. The Bills may have been the biggest disappointment, losing 23-16 to another team with AFC Champion sites of their own, the Pittsburgh Steelers. The old veteran Ben Roethlisberger out-dueled his younger counterpart, Josh Allen in what could easily be an AFC playoff preview between these two teams. For much of the game it wasn't the offenses that stood out. Steelers head coach, Mike Tomlin had his defense prepared and as did Bills on field CEO, Sean McDermott. It wasn't until the 4th quarter that this top team match up was decided.
For the Giants, it was more of the same. They basically got blown out Sunday. Daniel Jones did little to dispel the fears of Big Blue fans who think that "Danny Dimes" was a wasted draft pick. Jones had some decent numbers including a touchdown pass to Sterling Shepard but when your team has 3 punts, a touchdown and a fumble to show for the first 3 quarters of possessions, things are going well. Jones padded his numbers with a QB sneak for a TD as time expired or else the G-men would have lost by 3 touchdowns, instead the Denver Broncos ended up winning by a score of 27-13.
For the Jets, it was another look in the re-do mirror. Head coach Adam Gase, once dubbed "the genius" by Gang Green owner Christopher Johnson was sent packing and replaced with defensive guru Robert Saleh from the San Francisco 49ers. Young Sam Darnold was jettisoned from the starting role on Broadway, really the Jets, to an opportunity with offensive weapons in Carolina. The Jets latest first round star, Zach Wilson got to face his predecessor in Game 1. As it is in Jets land, that didn't go so well but they didn't suck! The Jets score zero points in the first half but made it a game by the 4th quarter losing 19-14 to Carolina. Wilson impressed Jets fans as he ran for his life the entire game and was sacked 6 times. He kept getting up and kept his team in the game.
All 3 teams are in action this week. Thursday the Giants face division rival the Washington Football team at 8pm on NFL Network. Sunday the Jets take on the Patriots at 1pm from Met Life Stadium. That game is on CBS6 locally and the Bills take on the Dolphins at 1pm and that game will be on Fox23. Don't forget to listen to The Drive with Charlie & Dan for all of our NFL Picks.
The 100 Best Places to Live on the East Coast
More From 100.3 & 94.7 The Eagle WDHI-FM