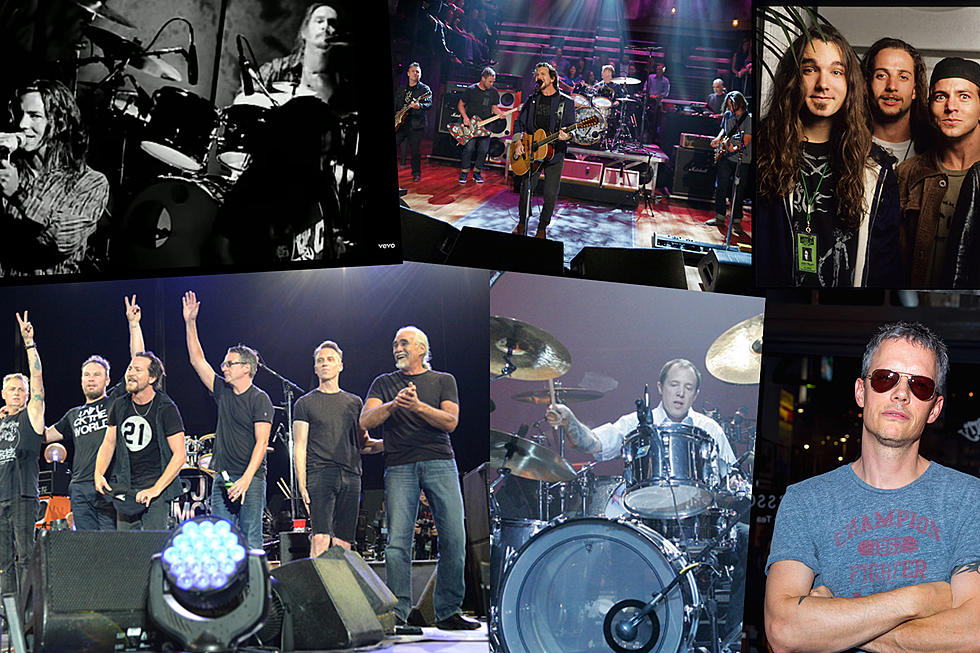 Pearl Jam Lineup Changes: A Complete Guide
Paul Bergen / Rodrigo Vaz / Gie Knaeps / Paul Redmond / NBCU Photo Bank / Kevin Mazur, Getty Images, YouTube, Epic
But for Pearl Jam's first eight years, they had a serious percussion problem. During the prime grunge era, the group just couldn't hold keep the drum throne warm, cycling through players who left due to substance abuse issues (Dave Krusen), personality conflicts (Dave Abbruzzese), the temptation of other gigs (the briefly tenured Matt Chamberlain) and the frustrations of touring life (Jack Irons).
Each member — with the exception of Chamberlain, who was barely around long enough to tune his toms — contributed to Pearl Jam's ever-evolving dynamic. But for some reason, the Rock and Roll Hall of Fame only chose to induct two of them in 2017: Krusen, who played on their monumental and mega-selling debut, 1991's Ten; and the clearly deserving Cameron.
"The whole thing with Pearl Jam and drummers, honestly, I feel bad because I don't understand people's high school clique conversations on Facebook and whatnot," Krusen told Rolling Stone, wisely avoiding the controversy of Abbruzzese and Irons not making the Rock Hall cut. "People can have a favorite drummer. I understand that. But to try and tear one down to build the other up, I don't understand that. I can't get with that. I think Matt Cameron is, by far, the best drummer the band has ever had."
Every fan seems to have a favorite Pearl Jam era — and favorite Pearl Jam drummer. The two are often intertwined. Let's look back at each one of the band's lineup shifts over the years.
More From 100.3 & 94.7 The Eagle WDHI-FM