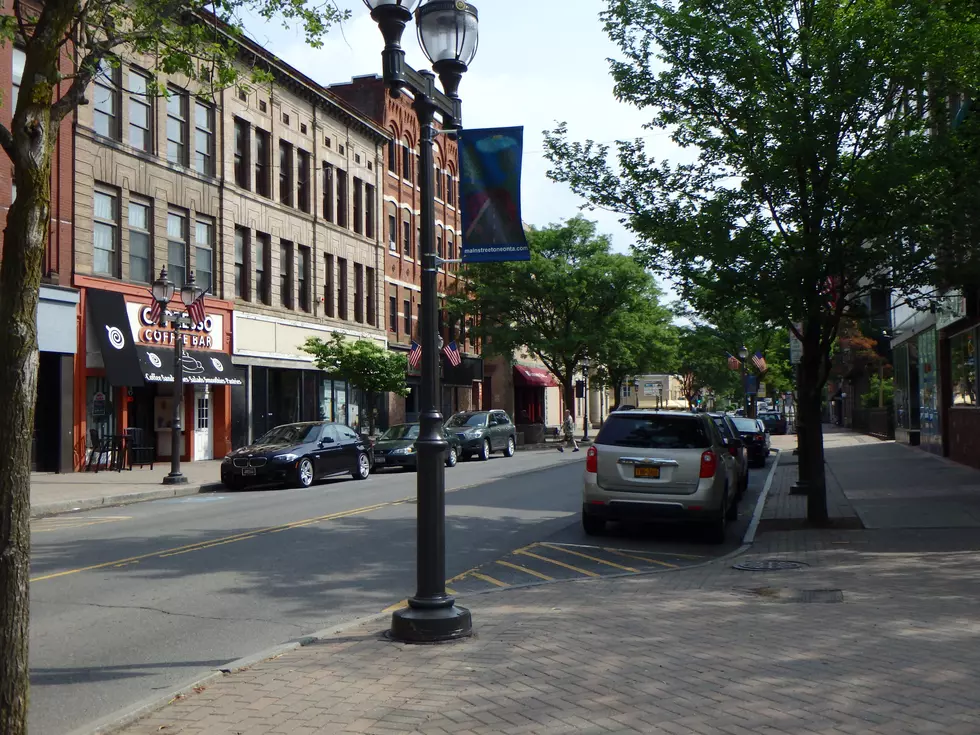 NYS Preservation League To Help Save Endangered Historic Downtown Oneonta
TSM Oneonta
The City of Oneonta has made a list that could be very instrumental in preserving Oneonta's treasured historic buildings in the Downtown district. The Preservation League of New York State has put Oneonta on its "Seven to Save" list for 2022-23.
The Preservation League of New York State is an organization whose focus is to "invest in people and projects that champion the essential role of preservation in community revitalization, sustainable economic growth, and the protection of our historic buildings and landscapes". With its "Seven to Save" program, the group identifies historic sites that are most endangered in New York State and then proceeds to assist municipalities with the preservation of those sites in a variety of different ways - by working with local advocates, raising awareness and visibility for those historic sites, and by providing technical services.
Downtown Oneonta's charm is so tied to the historic buildings in that district but unfortunately, there are historic buildings that are unoccupied and are in need of repairs and remodeling to ready them to be occupied in some way.
In a City of Oneonta Facebook post on Monday, Deputy Community Development Director for the City of Oneonta, Stephen Yerly commented on Oneonta making the Preservation League's Seven to Save list: "Oneonta's Downtown Historic District is not just a business district, it is representative of generations of hopes and dreams, it is an investment made by those who came before us and one that we will leave for those who come after. You can see the full post below...
This is certainly wonderful news for the City of Oneonta and its residents who truly appreciate the historic value of Downtown Oneonta buildings and don't want to see any of them demolished down the road to make way for modern structures.
For more information about the Seven to Save program visit preservenys.org/seven-to-save.
The Oneonta History Center's Remodeling Transformation Into A Treasured Museum
On Friday, May 13, 2022, after having been closed since January, the Oneonta History Center on Main St., Oneonta, reopened its doors to visitors following a major renovation project on its first floor. For anyone who has previously visited the history center, it will be very easy to see the complete transformation of the the space!
Stunning Mural Transforms Oneonta, NY Eyesore Into Eye Candy
A building that the City of Oneonta plans to demolish, and one of Oneonta, NY's biggest eyesores, has been getting a major makeover thanks to artist James R. Mcilroy, owner of
Wolfhound Studio
which is a tattoo and art studio at 269 Main Street, Oneonta. Mcilroy has been creating murals on the side of the former Oneonta Sales building on the corner of Market St. and Chestnut St. Extension - a building formerly used as storage by the
Twelve Tribes
group in Oneonta. Now, instead of focusing on the ugliness of this horrible structure, the eye is drawn instead to the beauty of Mcilroy's artwork. Talk about a transformation!
Road Trip! Sports Halls of Fame and Museums Are Everywhere in Upstate New York
Warm weather means road trips. And there is no better road trip in Upstate New York than to visit the many sports halls of fame and museums in the region. From the Hudson Valley to Western New York you will find museums and halls of fame dedicated to boxing, horse racing, baseball, stock car racing, fly fishing, and many other sports. Here are 8 of the best in Upstate New York.
More From 100.3 & 94.7 The Eagle WDHI-FM