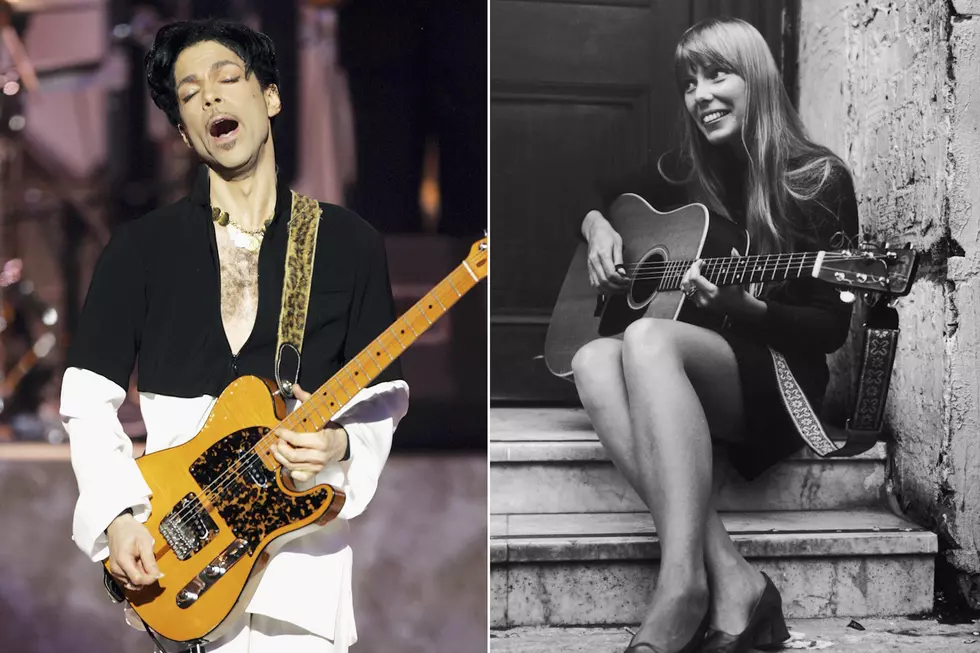 Why Joni Mitchell Turned Down the Prince-Penned 'Emotional Pump'
Kevin Winter / Central Press, Getty Images
Despite his love for Mitchell's work - and a tendency to express love for musicians by sending them songs to record - Joni was a nut Prince couldn't seem to crack. On Oct. 16, 1986, during one of his marathon sessions at Sunset Sound Studios in Los Angeles, Prince laid down a funky number called "Emotional Pump" that he decided would be an ideal track to send his hero.
Anchored by a popping bass line and punchy horn riffs from sidemen Eric Leeds and Atlanta Bliss, "Emotional Pump" is a direct plea to a satisfying lover. "Concentrate on U is all I have 2 do," Prince sings, clarifying he also wants the song's subject "in a way like a mother wants a child." The song fits the overall sonic landscape of Sign O' the Times, and it's little surprise that it's one of the dozens of vault tracks issued on the expansive super deluxe edition of the album released in September 2020.
So why didn't Joni - who ventured into New Wave and synthesizer stylings in 1985 with Dog Eat Dog - commit to the track? According to the singer herself, it was simply a matter of preference.
"He implied that something would happen between our two musics. Something that he had never done before. That whet my curiosity," Mitchell told the Auckland Sun in 1988, discussing a jam session of theirs. "I asked him to explain it but he said he could not put it into words. The closest he came to articulating it was that it was the open harmonies I got in conjunction with funk into a hybrid that would be fairly fresh."
"I said why didn't he build me a track," she continued, "so he sent a song with him singing 'Emotional pump, you're my emotional pump, You make my body jump.' I called him back and said that I could not do the song."
During an interview with Stranger in Australia, she went on to explain that she told Prince, "'I can't sing this, I'd have to jump around in a black teddy. You think I should be jumping around in a black teddy?' He said, 'Oh Joni, we don't do that anymore!'"
Ultimately, Joni had interesting things to say about Prince in years to come, calling him "a great hybrid" rather than "an innovator" in a 1991 interview with Rolling Stone and expressing gratitude for his admiration of her. "To me that was a case of the open mind of youth," she said. And Prince kept returning the favor, putting a cover of "A Case of You" on 2002's One Nite Alone...
Prince Albums Ranked
More From 100.3 & 94.7 The Eagle WDHI-FM