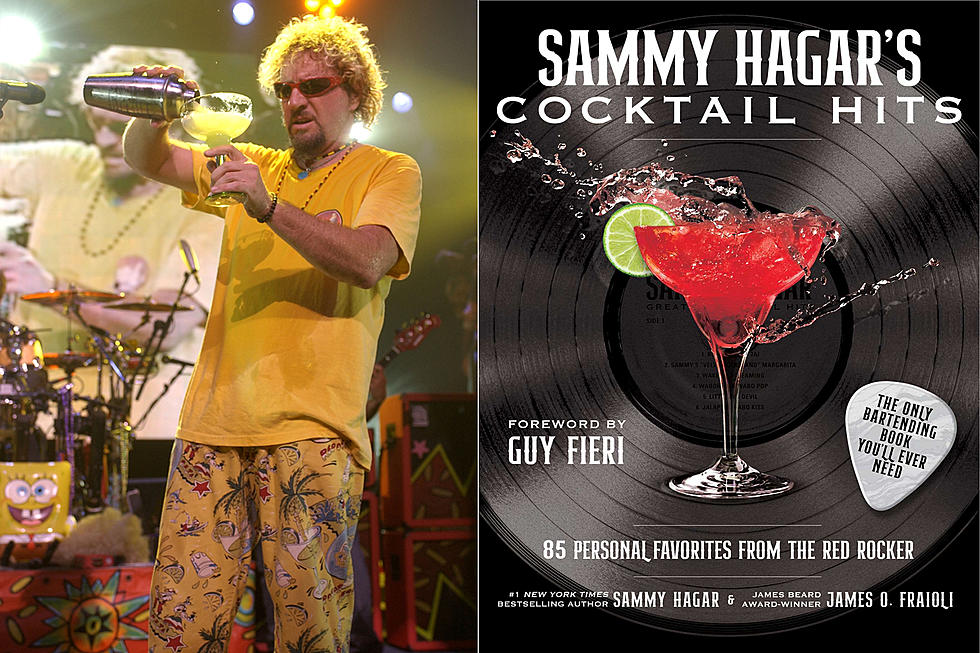 Sammy Hagar Announces 'Cocktail Hits' Mixology Book
Steve Grantiz, Getty Images / Simon & Schuster
After writing an autobiography and a cookbook, Sammy Hagar will turn his attention to mixology with his third book, Sammy Hagar's Cocktail Hits.
The author of songs such as "Cabo Wabo," "Mas Tequila" and "Cruisin' and Boozin'" shares 85 of his "personal favorite" drink recipes in the book, which includes a foreword written by Hagar's friend and Food Network host Guy Fieri.
"I have been working and studying the art of making and drinking cocktails for decades now, and have finally pulled together all my favorites, my knowledge on how to do it, and what we need to throw the best parties with the best cocktails and some tips on how to put it all together," the Red Rocker said on his website. "I guarantee this is the only cocktail book you will ever need. It's kind of like my greatest hits from in front and behind the bar."
Recipes for the Maui Mama, Tiki Swizzle, Blanco Gimlet and Black & Blue Lemonade will be part of the book, along with other concoctions inspired by the singer's time in Hawaii, Las Vegas and Mexico. Sammy Hagar's Cocktail Hits comes out March 29 and is available to preorder now on Simon & Schuster's website.
The former Van Halen and current Circle frontman has expanded his business empire considerably over the years, particularly with alcohol. The "connoisseur of cocktails" created Cabo Wabo Tequila, Sammy's Beach Bar Rums and, with Fieri, a line of Santo Tequilas and Mezquila. In 2008, Hagar sold 80 percent of his interest in Cabo Wabo Tequila to Italy's Gruppo Campari for a reported $80 million and unloaded the remaining shares two years later. He still owns all three Cabo Wabo Cantinas in Las Vegas, Cabo San Lucas and Hollywood.
Hagar made his publishing debut with his 2011 memoir Red: My Uncensored Life in Rock. The singer later said he regretted having written about certain experiences. "I kind of wish I would have been a little more conservative about the Van Halen years – but I was angry when I wrote the book," he admitted.
The Red Rocker published another, lighter, book in 2015. Are We Having Any Fun Yet? – The Cooking & Partying Handbook contains more than 50 food and drinks recipes inspired by Hagar's time in Cabo and Maui, Hawaii. The singer also shares "the stories behind his unique, self-made culinary journey," gets contributions from celebrity chefs and offers tips for throwing the perfect party.
Hagar is still keeping plenty busy with music as well. The Circle — which includes longtime Van Halen and Chickenfoot bandmate Michael Anthony, guitarist Vic Johnson and drummer Jason Bonham — are planning to release an album tentatively titled These Crazy Times. No release date has been announced. The Circle will hit the road with George Thorogood, another artist who loves singing about drinking, on the Crazy Times tour this summer.
The Best Song From Every Sammy Hagar Album
On his own or in a group, the Red Rocker proves there's more than one way to rock.
More From 100.3 & 94.7 The Eagle WDHI-FM