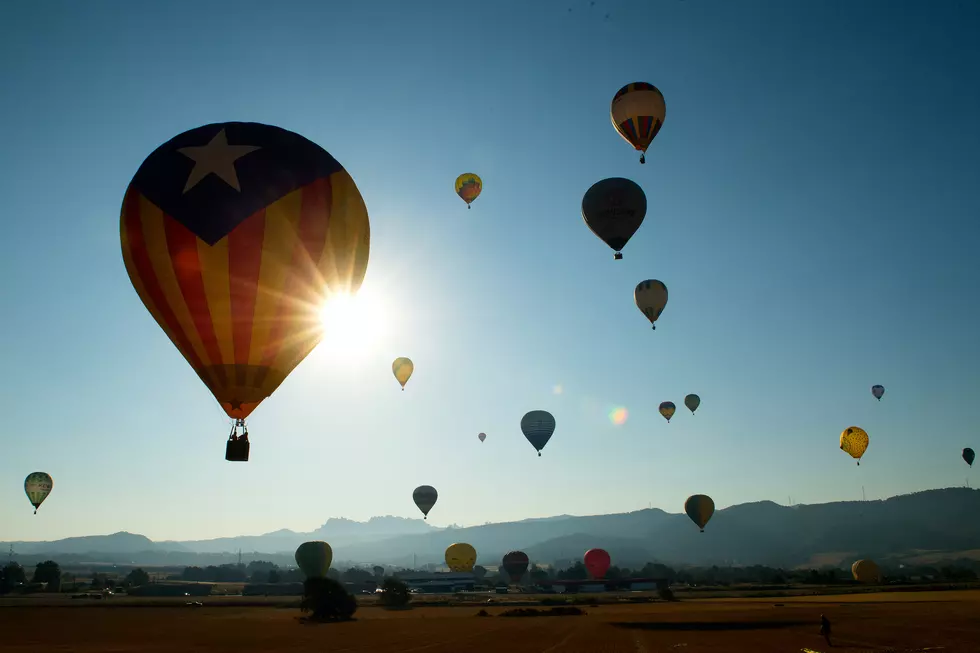 See The Adirondacks In A Hot Air Balloon
Getty Images
I watched my son's baseball game last weekend, and on this beautiful Sunday were several hot air balloons up in the sky. They were so graceful and pretty. All I thought was the view had to be spectacular.
A hot air balloon is on my bucket list for me, especially doing one very early in the morning to catch the sunrise. As I sat there looking up at the sky, I thought it was time to see how and when I could take a hot air balloon ride!
There are several companies in the Capital Region that offer rides starting from downtown Albany to the Adirondacks.
Above All Balloon offers rides that can last for 3-4 hours. There is a pre-flight briefing, balloon inflation in which you help, 45-60 minutes of flight time, landing and balloon pack-up, champagne toast and cheese platter, and return to your car.
Most of the rides depart from South Albany, but they do offer to accommodate additional sites. Can I be picked up at my house?
We have the first hot air balloon company in New York state in our own backyard, Adirondack Balloon Flights.
Adirondack Balloon Flights offer small group and romantic private hot air balloon rides in the Adirondacks, Lake George, and Saratoga Springs. Imagine taking a ride with your partner for cheese, champagne, and a ring? Now that is a proposal for the books!
Sunkiss Ballooning offers to take you peacefully over the landscape of the Adirondacks, the farmlands of upstate New York, beautiful views of Lake George, and even the rolling hills of Vermont.
If you want to get the full experience, Sunkiss Ballooning encourages passengers to help with setting up and taking down the balloon!
After spending an hour soaring over the farmlands and lakes in the area, Windrifter Ballooning ends each ride with a celebratory champagne toast upon landing.
Don't forget we have one of the best festivals in our area, the Adirondack Balloon Festival, September 22-25. Held at the Floyd Bennett Memorial Airport, the four-day family-fun event offers something for everyone, music, classic cars, crafters, food vendors, children's activities, and a fireworks display.
You will not only be able to watch the balloons in the sky, but you can also go for a ride!
More From 100.3 & 94.7 The Eagle WDHI-FM