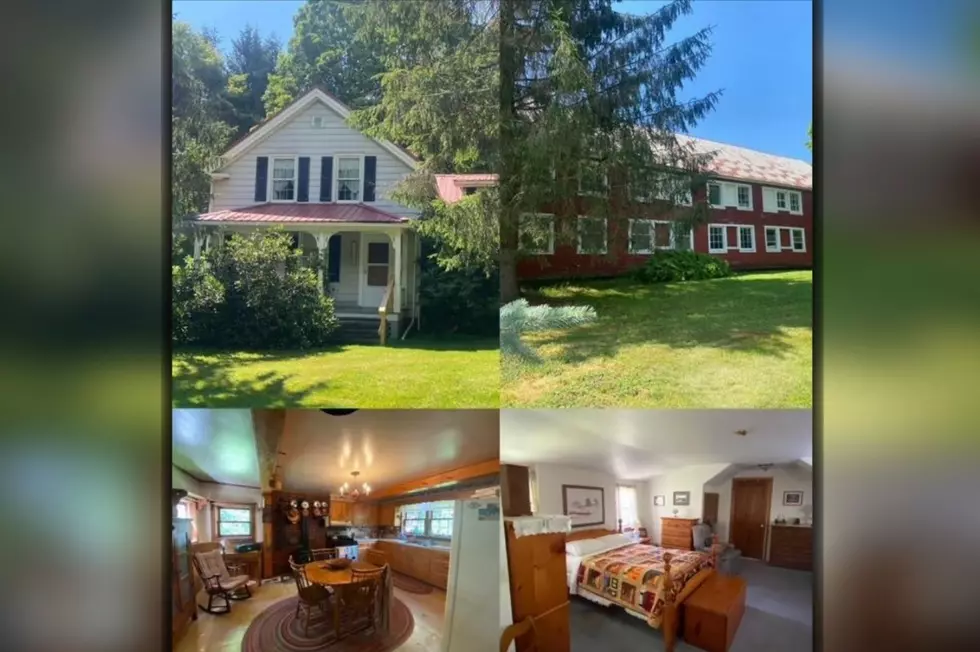 The Featured Real Estate Listing For August Has Country Charm
via Benson Agency
Philip Wright with Benson Agency Real Estate unveiled the Classic Hits 103.1 Listing of the month courtesy of Benson Agency Real Estate.  Phil was happy to describe this Charming Country Home located between the Historic Village of Gilbertsville & Morris with just a short drive to Oneonta.
This home sits on just under 50 acres and is sure to impress! Exterior features include a porch, private deck, large yard and massive 3-story barn with electric and 2-car garage.  Plus to top it off, just across the road is an additional 2-story barn, over 30 acres of the land prime for hunting, a small cabin and the back side borders beautiful Butternut Creek.
Let's now take a look inside!  On the first floor you'll find a living room, large full bath, office, formal dining room, kitchen with gas fireplace, laundry room and enclosed back porch. Upstairs features an additional large full bath, two large bedrooms with double closets, and a large master with three closets. This is a unique country home and such a rare find so please don't hesitate!!!
These are just a few of the many photos you can see but just take a look at how gorgeous this place is...
There's so much more to see!  Make sure you check out the full listing with additional photos here.
To find out more or schedule a viewing of this property in the Town of Butternuts, contact Benson Agency Real Estate at (607) 432-4391.
Road Trip! Otsego County Means Baseball, Breweries, and A Whole Lot of History!
Otsego County is known throughout America as the home of the National Baseball Hall of Fame and Museum in Cooperstown. But this beautiful county in Central New York has much more to offer other than just baseball. Art, museums, breweries, fine dining, unusual and historic sites, classic small-town American villages and towns, parks and rivers, and so much more.
Oneonta Emmons Farm Most Exclusive Rentals Around
Emmons Farm located in the Town of Oneonta, NY on Rt. 7 is one of the most, if not THE most exclusive property where people can rent apartments and cottages. Emmons Farm is steeped in a generational history which dates back to the early 1800's when Asa Emmons first came to the area. The photos below show off its grandeur and incredible qualities.
21 Of the Most Mangled Town and Village Names in Upstate New York
There are a lot of town names in Upstate New York with a whole lot of unnecessary letters in them. Because the towns and villages were named (for the most part) 200 plus years ago by the Native American tribes who settled here, this leads to many mispronounced (yes, mangled) pronunciations for us all these years later.
This is a list of 21 of the most commonly mangled pronunciations of Upstate town names. Of course, there are many more so we look forward to our readers sharing their own suggestions for "most mangled, mispronounced town names in Upstate New York."
12 of the Most Drool-Worthy Adirondack Homes For Sale Right Now!
Many New Yorkers can only dream of owning a log home or family home in the Adirondack Mountains. Prices have skyrocketed over the years putting a lot of these properties just a bit out of the reach of the everyman or every woman.
The houses on this list are no different. But we can dream, can't we?
With autumn just around the corner imagine yourself in the lap of luxury in any these 12 stunning homes in the Adirondacks. All are currently for sale (but could be gone at any moment). Most are on lakes, several are sprawling family estates, there is a renovated "great camp" on the list, the majority are log homes, and others are unique in their own way.
So dream on. Wouldn't you like to spend this fall in one of these gorgeous homes?
Sip and Discover Otsego County Along The 37-Mile Cooperstown Beverage Trail
If you are looking for something fun and different to do with either friends or your partner for an afternoon, the Cooperstown Beverage Trail offers a lot of variety along this 37-mile trail.
More From 100.3 & 94.7 The Eagle WDHI-FM