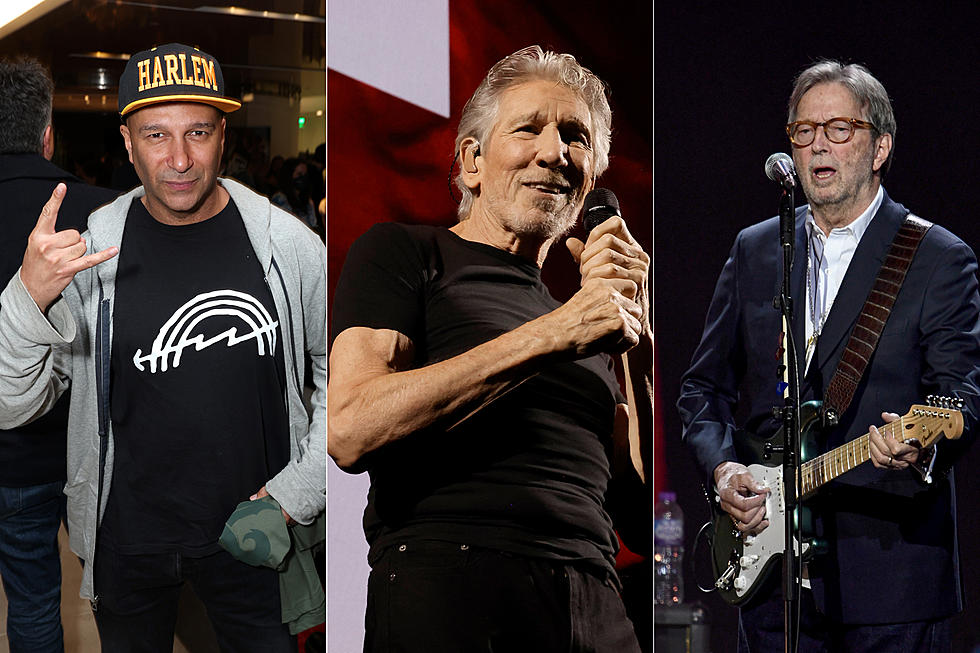 Tom Morello, Eric Clapton + More Call for Roger Waters Performance Ban to Be Reversed
Philip Faraone / Kevin Winter / Gareth Cattermole, Getty Images
Last week, Roger Waters revealed that he was seeking legal action after two of his upcoming shows in Germany were canceled in Munich and Frankfurt. The city council in Frankfurt cited Waters "persistent anti-Israel behavior," while Munich suggested that Waters "keeps stirring up antisemitic resentment" and spreads "conspiracy ideologies that justify Russia's brutal war of aggression against Ukraine." While Waters attempts to fight the ban, it appears as though he's not alone as a petition recently started to reverse the ban has surfaced online and it finds some of the musician's peers backing the move.
Comedienne and political commentator Katie Halper started the petition via Change.org, starting her post by stating, "We artists, musicians, writers and other public figures and organizations are deeply disturbed by the recent efforts by German officials to discredit and silence musician Roger Waters." Among the artists listed as signing the petition include Tom Morello, Eric Clapton, Waters' Pink Floyd bandmate Nick Mason, Peter Gabriel, producer Brian Eno, film director Terry Gilliam, actress Susan Sarandon, actress Julie Christie, actor David Cross, filmmaker Julian Schnabel, activist Cornel West, film director Ken Loach and plenty more.
READ MORE: Roger Waters Shares First Music From His 'Dark Side of the Moon' Re-Recording
In her petition, Halper states, "On February 24, 2023, Frankfurt's City Council and the Hessian State government announced the cancellation of a concert Waters scheduled to be performed on May 28 at the Festhalle. The Frankfurt City Council says that they canceled Waters' concert 'set a clear signal against anti-Semitism,' describing the musician as 'one of the most widely spread anti-Semites in the world. As evidence, the Council says that Waters 'repeatedly called for a cultural boycott of Israel and drew comparisons to the apartheid regime in South Africa and put pressure on artists to cancel events in Israel.'"
She continues, "There is no other evidence other than these two claims: that Waters has supported the Palestinian-led cultural boycott of Israel campaign and that he has compared contemporary Israel's government to the apartheid regime in South Africa. Neither of these claims is unique to Waters or outside the boundaries of mainstream public opinion," while listing off several human rights organizations that have defined Israel as an apartheid state.
She went on to add, "Waters' criticism of Israel's treatment of Palestinians is part of his long-term advocacy on behalf of human rights across the globe. Waters believes 'that all our brothers and sisters, all over the world irrespective of the color of their skin or the depth of their pockets deserve equal human rights under the law.' With regard to Israel and Palestine, he says, 'My platform is simple: it is implementation of the 1948 Universal Declaration of Human Rights for all our brothers and sisters between the Jordan River and the sea. Antisemitism is odious and racist and I condemn it, along with all forms of racism, unreservedly.'"
Halper claims that the villifying of Waters is "a dangerous campaign that purposely conflates criticism of Israel's illegal and unjust policies with antisemitism." She continues, "Officials in Germany, concert organizers, and music platforms must not succumb to the pressure of those individuals and groups who would rather see Waters' music removed than engage with the issues his music highlights."
She concludes, "We call on those who have canceled Waters' concerts to reverse their decisions and consider their own history of antisemitism, racism and genocide and how instances of these can be stopped today in other parts of the world, including in Occupied Palestine."
The petition can be viewed in full right here, where you can also sign if you back it. They are attempting to get 15,000 signatures and at press time had amassed over 11,000.
Meanwhile, a separate petition was started in response to keep the ban of Waters in Frankfurt, Germany in place. It calls out Waters for "his endless slurs of Jewish people," and asks that the show remain off the schedule. It is seeking 100 signatures and has 50 at press time. You can find that petition here.
7 Times Rock Bands Were Sued By Album Cover Models
These people aren't happy to be part of musical history.
More From 100.3 & 94.7 The Eagle WDHI-FM