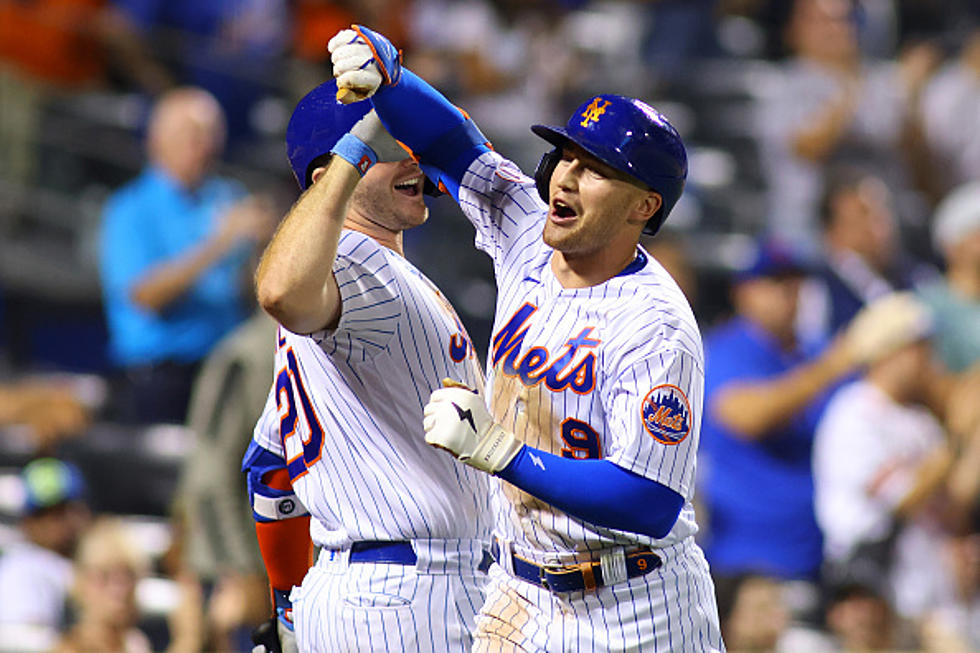 Will This be Buck's New York Mets Line-up Card for 2022?
Getty Images
The Tweet came out on Saturday night, much like the white puff of smoke out of the Vatican when a new Pope is selected. This time it was from an estate in Greenwich, Connecticut and the home of billionaire Steve Cohen, the owner of the New York Mets. Cohen was alerting the New York Mets fanbase that Buck Showalter would be the new manager of the Amazin's. It was the name that the fans wanted to hear and much like their recent splurge into free-agency, they got everything that they wished for.
Buster Olney was on The Drive with Charlie & Dan on Thursday. He said that the Mets will not shy away from a $300 million payroll in 2022. That is if the lock-out ends in time to play a season next year but let's be optimistic. It's the holidays! So are we ready to construct some line-ups? I am!
Leading off, Buck should stick with Brandon Nimmo in centerfield. Nimmo greatly improved in the middle outfield spot last year and his on base percentage was .401 last year. Don't mess with him. He's only getting better.
In the two hole, let's go with Francisco Lindor at shortstop. Defensively, few are even close to him. Offensively, he needs to step up this year and should with more protection behind him. He can do a lot of damage in the #2 spot.
In the 3 hole, let's go with brand new free agent, Startling Marte in leftfield. Marte is going to be a huge addition to the Mets line-up. He always hits around .300 and will drive in runs. Marte has excellent speed. He stole 47 bases in 2021.
In the clean-up spot is the Polar Bear, Pete Alonso, the Mets first baseman. Pete belted 37 home runs and knocked in 94 runs on a dysfunctional team last season. Those numbers will get bigger with more guys on base in front of him.
The number 5 spot in the batting order should be another new free agent toy, Eduardo Escobar at 3rd base. Escobar is a switch hitter that blasted 28 home runs last season for the Milwaukee Brewers. He will be a nice anchor at 3rd base for the Mets.
Now to the six hole. That should go to the designator hitter(s). This season, unless he gets banged for PED's again, Robinson Cano will be available for this role and could be dangerous. With a year off from the wear and tear of baseball and something to prove, Cano could be as dangerous in this slot as any DH in the league, especially from the left side. If the Mets decide to go righty lefty, look for J.D. Davis to get at bats against left handed pitching.
The 7th hitter will be another free agent acquisition, right fielder Mark Canha. What the Mets lose defensively with Canha in right field, as a result of Michael Conforto's departure via free agency, they make up in left field with Marte. Canha is a professional hitter and I'm not convinced that the Mets don't have someone else in right and in this batting slot by August 1st, the trade deadline.
The 8th position in the batting order will belong mostly to the catcher James McCann. McCann was solid behind the plate for New York and is a placeholder until their top prospect, Francisco Alverez is ready in a year or two to get behind the dish.
Finally, the 9th hitter is going to be a spark for the Mets, second baseman Jeff McNeil. The former all-star is coming off of a terrible year but did get back to himself near the end. Can he play nice with his double-play mate, Francisco Lindor? We'll see but like Brett Gardner was for the Yankees, McNeil could be a dangerous #9 hitter in the Mets dangerous line-up. Send me any changes that you would have @charlievoelker on Twitter. We'll get to Buck's pitching rotation and bullpen very soon!
New York Winter Emergency Car Kit
More From 100.3 & 94.7 The Eagle WDHI-FM